Mepps Glo Series Lures Visible In Any Water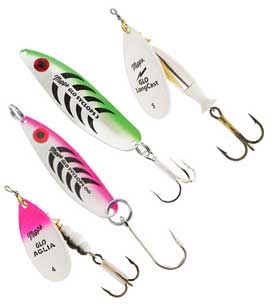 Mepps has taken its Color Technology studies to a new level with the its GLO Series, a line of highly visible premium glow-in-the-dark lures. GLO Series spinners and spoons were developed using Mepps Color Technology, so they can be seen in any water color, at almost any depth, under all weather conditions.
"Mepps began studying and experimenting with lure colors several years ago with a few lures designed primarily for trout and salmon," Jim Martinsen, Mepps spokesperson comments. "We quickly discovered contrast is a major factor as to whether a lure can be seen by a fish. So, we expanded our color studies and applied what we learned to our entire lure line. In the process of doing this, the Mepps GLO Series was born."
The GLO Series Aglia, Flying C, SpinFlex and LongCast are premium Mepps spinners, with the same vibration and flash that has made Mepps the World's #1 Lure. In addition, they have been meticulously airbrushed with a special combination of acrylic and vinyl finishes that produce a long-lasting natural glow.
GLO Bantam Syclops and GLO Syclops Lites feature ten reflective surfaces for maximum visibility. They are ideal trolling spoons. The GLO Little Wolf spoon has a natural side-to-side wobbling action that creates an intense flash. It's heavier than the Syclops Lite, making it a natural for pier fishing. It can also be trolled with many popular plugs.
There's a Mepps GLO Series lure to match any fishing situation.
To see the entire lineup of Mepps® products, or receive a current Mepps® Tackle Catalog, visit our web site at www.mepps.com or call 800-637-7700. Sheldons' Inc., 626 Center St., Antigo, WI 54409-2496.