Mepps Introduces Aglia Tandem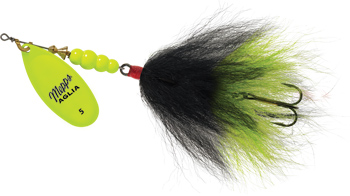 Mepps, the world leader in musky bucktails is now offering a scaled-down model of its classic tandem bucktail. The Mepps #5 Aglia Tandem is perfect for large bass, trophy northern pike and early season musky. All Aglia Tandems feature a heavy-duty #1/0 bronze treble hook with a #2 treble hook trailer. Nine blade colors and 10 tail colors are available at this time.
The hand-tied tandem tail is genuine bucktail, dyed in brilliant fish-attracting colors. Not only does the tandem tail give this lure a larger profile, the #2 "stinger" hook lets you "cash-in" on those short strikes. Solid brass blades and bodies, a durable stainless steel shaft and a rugged folded solid brass clevis means this lure will hold-up under the toughest fishing pressure.
Mepps web site is: www.mepps.com. To receive a current Mepps Master Catalog featuring the entire line-up of Mepps products, either visit our web site or call 800-637-7700. Mepps, 626 Center St., Antigo, WI 54409-2496.