Mepps Little Wolf Won't Stall Or Roll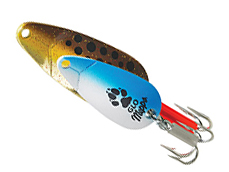 Mepps Little Wolf spoon is for any angler who appreciates the handcrafted quality of yesterday and the vibrant fish-attracting colors of today. It's a rugged, solid brass spoon that will not rust or tarnish like many other ordinary spoons, and its unique reverse-curve design features ten distinct highly-reflective surfaces that disburse light equally in all directions as it's pulled through the water.
All painted Mepps Little Wolf's feature a perfect blend of vinyl and acrylic oven-baked finishes with a contrasting logo for maximum visibility and durability. Mepps proprietary finishes are far more chip- resistant than similar finishes on similar products. Gold blades are polished brass and silver blades are genuine silver plated. As if this wasn't enough, all Mepps Little Wolves have a razor-sharp, perfectly honed hook with high-visibility strike-attractor tube. Together, these entice more fish to strike while yielding a higher hooking percentage.
Every Little Wolf is perfectly balanced to maintain the same intense side-to-side wobbling action at all retrieval speeds. It doesn't stall when you stop your retrieve. Instead, it maintains its action as it falls. Three years of development and testing means every Mepps Little Wolf performs perfectly right out of the package. The Little Wolf comes in four sizes, 1/8 oz., 1/4 oz., 2/5 oz. & 3/4 oz., and a wide variety of proven colors including GLO (glow in the dark) colors.
Mepps, manufacturer of the World's #1 Lure, continues to ask hunters to save their squirrel tails. The tails are used to dress the hooks of Mepps, the original French spinner.