Mepps Longcast Gets You There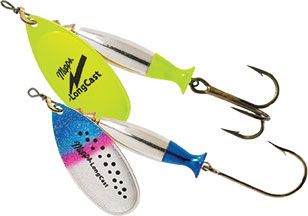 Cover more water... The Mepps LongCast spinner with its heavy bullet-shaped body and fin takes the effort out of long-distance casting. Fishermen can now cast further and fish deeper than they ever have before. Because the LongCast sinks quickly and stays close to the bottom throughout the retrieve, it's perfect for fishing heavy current or deep water. It adds a new dimension to pier fishing.
A lot of engineering went into the design of the Mepps LongCast. To begin with, every LongCast is perfectly balanced. This allows the blade to spin freely and easily, an attribute found in every Mepps spinner. Perfect balance doesn't just happen. Every component on the LongCast, from the wire to the hook, has been carefully selected and tested with the other components to assure proper balance. Weighing in at 5/8 oz., the #4 LongCast is a full 85% heavier than a #4 Mepps Aglia, and it is 65% heavier than the competition. The #5 LongCast weighs 7/8 oz. It is 75% heavier than a #5 Mepps Aglia, and weighs twice as much as the competition's #5 spinner. In fact, the heavy-weight #5 LongCast is 40% heavier than the competition's #6 spinner.
Give the Mepps LongCast a try. You will quickly discover you are casting farther and fishing deeper than you ever have before. In fact, you'll be able to fish water you've never fished before.
Become a Mepps Master Angler or Mepps Expert Fisherman. Details are in the Mepps Master Catalog. More record fish have been caught on Mepps than any other lure.
Mepps, manufacturer of the World's #1 Lure, continues to ask hunters to save their squirrel tails. The tails are used to dress the hooks of Mepps, the original French spinner.