Mepps® Lures the Secret To a Long Happy Life?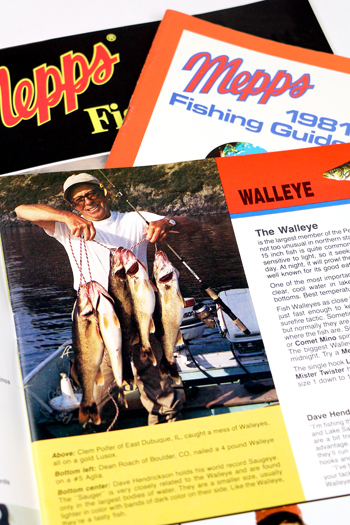 This August 29th, 2015 will mark yet another, in a long list of momentous dates for the Mepps lure company. On that noteworthy Saturday, one of Mepps most ardent supporters; someone who has graced the pages of their renowned annual catalog, not once, but three times; a true, Mepps fishing legend; Clem Polfer will turn 100-years-old.
"Of course, I remember Clem Polfer and his wife, Angie," says Mepps president, Mike Sheldon, when informed of Clem's upcoming birthday. "Clem has been in a bunch of our catalogs over the years. And, in fact, his wife even appeared on the cover of the 1978 issue."
Beginning in 1973, Clem went on to earn eight awards in the Mepps Master Angler Program, and as mentioned earlier, appeared in the catalog 3 times–1981, 1983 and 1991. "I noticed his Master Angler awards include a 9-pound walleye, a 22-pound northern pike and a 32-pound lake trout. Those are some seriously big fish! Real trophies!" remarked Mepps Communication Director, Kurt Mazurek.
"Fishing is his favorite past time and it's what keeps him going," says his great granddaughter, Heather Ewry. The recognition from Mepps "means a lot!"
People like Clem mean a lot to Mepps. From the dedicated team who have hand-assembled every Mepps lure in the USA since 1956, to passionate fisherman like Clem Polfer, Mepps' success has always relied on the people.
So, on behalf of everyone here at Mepps," says Sheldon, "we'd like to thank Mr. Polfer for his amazing skills as an angler and his lifelong dedication to Mepps lures, and to wish him a heartfelt, happy birthday! We'll be watching the mail for his latest submission to the Master Angler program."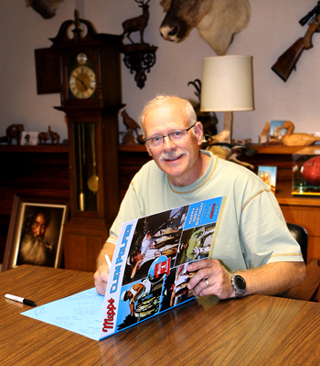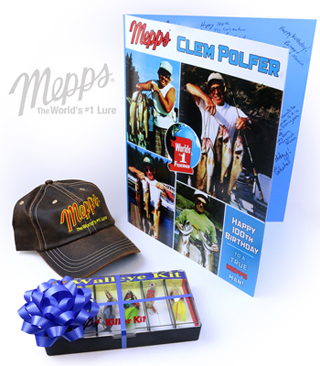 To see the entire lineup of Mepps® products, or receive a current Mepps® Tackle Catalog, visit our web site at www.mepps.com or call 800-637-7700. Sheldons' Inc., 626 Center St., Antigo, WI 54409-2496.