Mepps Marabou... Fish The "Missed" Water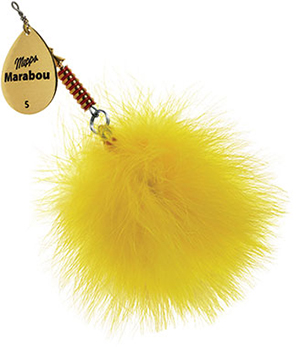 Weighing in at a full 3/4 oz., the large-profile Mepps Marabou will catch a variety of freshwater gamefish. Its wide #5 Colorado blade brings this spinner closer to the surface during the retrieve, so it is ideal for fishing over weeds or those times when the lure should just break the surface as its blade spins.
All Mepps Marabous have the "magic" action of a top quality, brightly colored marabou tail for high visibility and lifelike movement in the water, making it perfect for trophy largemouth, northern pike and musky. In addition, because you can fish it near the surface, you will be able to fish water missed by many other lures.
The real advantage to the Mepps Marabou, however, is in the action and pulsation of its marabou tail. Marabou feathers are so fine and soft; every revolution of the blade makes them come alive.
Mepps, manufacturer of the World's #1 Lure, continues to ask hunters to save their squirrel tails. The tails are used to dress the hooks of Mepps, the original French spinner.