Mepps® Musky Flashabou Wins Versus Musky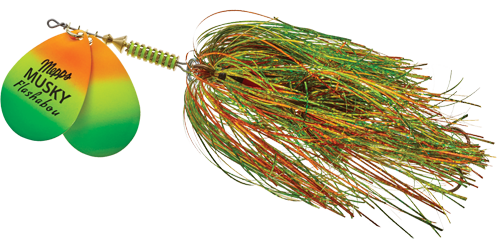 Be victorious while fighting Musky with the all-new Mepps Musky Flashabou. The new Mepps Musky Flashabou adds maximum attraction to the legendary split-ring and tandem treble hook assembly for the quality and proven fish-catching ability musky fishermen trust.
The holographic flashabou tail is tied around two treble hooks on a split-ring assembly that increases hook-up percentage and decreases the chance for fish to throw the lure.
Mepps Musky Flashabou spinners beam prisms of light, create a bigger profile to attract fish, comes in 15 contrasting colors and are available in either a single or double blade configuration.
No other Flashabou style spinner allows fishermen to keep/gain leverage on a fighting Musky like a Mepps Musky Flashabou. View the Mepps Musky Flashabou at mepps.com/mepps-musky-flashabou or the Mepps Master Catalog. To receive a current Mepps Master Catalog, call 715.623.7556.
For additional information contact:
Nik Kolbeck
nkolbeck@mepps.com
Phone: 800.637.7700