Mepps Saltwater Syclops Designed For Big Water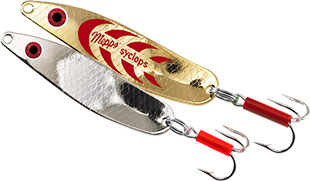 Mepps, traditionally recognized as a manufacturer of spinners and spoons for freshwater fishing offers saltwater anglers a special saltwater version of its popular Syclops spoon. The saltwater Syclops, unlike its freshwater cousin, sports stainless steel split rings and either bright nickel or 24 karat gold plating.
Saltwater Syclops are available in sizes #0 (1/4 oz.), #1 (1/2 oz.), #2 (5/8 oz.) and #3 (1 oz.). Depending on the size, the saltwater Syclops is perfect for speckled trout (weakfish), redfish, flounder, snook, blue fish, or striped bass (rock fish).
For additional information contact:
Josh Schwartz
jschwartz@mepps.com
Phone: 715-623-7556