Mepps Syclops Feature Ten Reflective Surfaces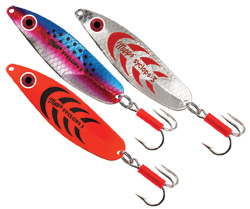 Since 1985 spoon fishermen around the world have been limiting out on the Mepps Syclops. Whether you fish for pike, salmon, trout, walleye or panfish, there's a Syclops just right for you.
No other spoon is as versatile as the Mepps Syclops. It casts easily and can be trolled at almost any speed. It can also be vertically jigged making it ideal for a deep-water vertical jigging presentation. Syclops come in five sizes from the tiny 1/8 oz. #00 Syclops that's perfect for panfish, to the heavy #3 Syclops that weighs-in at one full ounce.
All Mepps Syclops feature 10 highly reflective surfaces for maximum visibility in any water color and under all water conditions. Silver Syclops are plated with genuine silver so they produce a bright white flash. Painted Syclops all feature computer-age epoxy finishes for maximum durability. Gold Syclops are polished brass. The Mepps Syclops comes in 14 proven colors and all feature Mepps unsurpassed quality.
Mepps, manufacturer of the World's #1 Lure, continues to ask hunters to save their squirrel tails. The tails are used to dress the hooks of Mepps, the original French spinner.