Mepps Trophy Series Perfect For Salmon Steelhead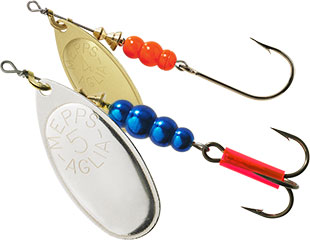 Mepps Trophy Series is a special line of Mepps Aglia spinners offered exclusively in the colors preferred by trophy salmon and steelhead fishermen throughout Alaska, the Pacific Northwest and the Great Lakes. Designed for trophy fish, they are only available in sizes #4 and #5.
"Simply put," comments Mepps spokesperson Jim Martinsen, "these are big lures for trophy fish. And, they're available in all the right colors."
Trophy Series Aglias were designed to catch trophy anadromous fish. If you're planning a fishing trip to Alaska, these spinners were designed with you in mind. Trustworthy Mepps quality means every Trophy Series Aglia features a Sandvic stainless steel shaft, solid brass blade and body, and an extra-sharp bronzed treble or single hook. Silver blades are plated with genuine silver for maximum flash.
Mepps, manufacturer of the World's #1 Lure, continues to ask hunters to save their squirrel tails. The tails are used to dress the hooks of Mepps, the original French spinner.