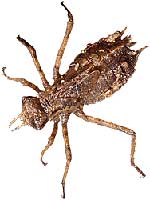 Here is a fishing lure so revolutionary it allows spinner fishermen to "match the hatch." From its fluttering, veined, lifelike wing to its expertly finished segmented body, the Mepps Thunder Bug looks like a bug, acts like a bug, and, to panfish and trout, is every bit as tasty as a bug.
Computer age finishes to resist chipping and peeling. Your choice of dressed or plain ultra sharp, strong treble or single hook. Mepps unsurpassed quality. Mepps Thunder Bugs... bugs, so natural, we've even given them bug names.
Thunder Bugs, the lures, not the bug, are available in size #00 through #2 making them perfect for both panfish and all sizes of stream trout. The size #2 Thunder Bug is also great for smallmouth bass and walleye.

Whether you choose to use plain or dressed Thunder Bugs is strictly a personal preference. Lure size, however, is important. The rule of thumb is use smaller lures to catch smaller fish and larger lures to catch larger fish.
Kenneth Adamik – Greenwood Lake, New York
Fish Caught: Bass, Largemouth - Bluegill (Bream, Brim) - Crappie (Black) - Crappie (White) - Musky - Perch, White - Perch, Yellow - Pickerel - Catfish, Bullhead (brown, yellow & black)
Best spinner I've ever used. I fish this thing all the time and can count on it to nail bass and pickerel all day long. Still get perch and crappie on em too.
John McConnell – West Virginia
Fish Caught: Trout, Rainbow
I have been slaying trout on the Greenbriar River in West Virginia for the last 3 years with your White Thunder Bug! Caught a 22" rainbow weighing 5.32lbs! Wish I could send a picture.
Wayne Clark – New Hampshire
Fish Caught: Trout, Brook - Trout, Brown - Trout, Rainbow
Must of caught 30 trout that day on the same lure. Had to keep straightening the center rod numerous times so the lure would swim right. That lure got beaten up bad. Still produced fish after fish. Great product.
Kevin Osina – Bethany Lakes, Allen, Texas
Fish Caught: Bass, Largemouth - Bass, White - Bluegill (Bream, Brim)
This lure works like magic. You throw it, they bite!!
Ralston Heath – East Lake Toho Florida, Florida
Fish Caught: Bass, Largemouth - Bass, Smallmouth - Bluegill (Bream, Brim) - Crappie (Black) - Crappie (White)
I originally bought one from a store because I thought it was cool looking (something different). Since then I have caught a lot of fish with it. Including the ones I checked above and add in Florida Gar. After only a year, it is seriously bent, beat, chewed, and wore out. But still catching fish. I consider it my don't get skunked lure.
Since it has seen such abuse, I ordered nine more. Best lure since the Comet Mino. PLEASE, keep making them. If not, let me know when you are going to stop making them so I can stock up.
Skipp Washington – Village Oaks Man-made Lake, Novi, Michigan
Fish Caught: Bass, Largemouth - Bluegill (Bream, Brim) - Crappie (Black) - Sunfish (shellcracker)
This is truly an extremely versatile lure. In one day and on the same lure (#2 Thunder Bug Bumble Bee), I caught 9 med. largemouth Bass, 4 Bluegill, 2 Crappie, 1 huge Pumpkinseed, 2 massive Bull Bream. I have but one suggestion, make this in a size #3 and you will have covered all the game fish in the Sunfish family, including big Largemouth and Smallmouth. Something about the sonic properties of this lure fish find irresistible! All in a days work.
Michael M – Bailey's Ford, Iowa
Fish Caught: Trout, Brook - Trout, Brown - Trout, Rainbow
My son (4) absolutely loves fishing and asked me if we could go on a special trout-fishing trip together. Having very little experience with fishing for trout, I did a bit of research ahead of time. We were going to be fishing in the Driftless Region where the streams are small enough that spin fishing is an excellent choice. The Mepps Thunder Bug let us "match the hatch" for grasshoppers and I custom-ordered a few single-hooked versions for catch and release. It was an excellent trip; with each of us reeling in a few small brookies, browns, and rainbows on our bugs.
Skipp Washington – Village Oaks Lake, Novi, Michigan
Fish Caught: Bass, Largemouth - Bluegill (Bream, Brim) - Crappie (White)
The Thunder Bug is extremely versatile and durable. I've caught Largemouth, Crappie, Bluegill, Pumpkinseed all on the same lure (Bumble Bee), all in the same lake, all on the same day! It casts a country mile, an advantage fishing from shore, and comes in great Match-the-Hatch colors. The weight allows count-down capabilities which puts you at the right depth for Strikes. Hydrodynamic and sonically sound. These lures do not spook fish. I only wish they made these in sizes 4 and 5 with fluorescent colors, perfect for big Bass, Walleye and Salmon. Hint, hint!!
Bob Hayett – Lake Lenexa, Kansas
Fish Caught: Bluegill (Bream, Brim)
The Cricket Thunderbug is one of the very best bluegill lures I've ever used. This is not surprising, since crickets are known as a great bluegill bait. I've caught maybe hundreds of bluegills on the Thunderbug in many lakes in Northeast Kansas. Lake Lenexa is a small flood control lake with very clear water for a Kansas lake. The darker color of the cricket Thunderbug is perfect for clearer water.
View All Testimonials
Share Your Testimonial
Write a product testimonial and share your fishing experiences with other customers.