Anyone can fish thick weeds or cover with a Mepps Timber Doodle because Timber Doodles, when rigged with a Mister Twister Split Double Tail, are virtually weedless.
Timber Doodle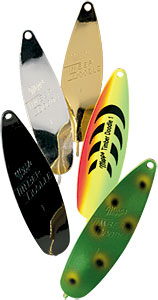 Thick weeds, brush and cover are no match for the Mepps Timber Doodle. When rigged with a Mister Twister Split Double Tail, it gives the Timber Doodle a weedless body design that can erratically swim through the thickest of "slop" when hunting for trophy fish. Due to the fluttering action as they sink, they can be vertically jigged, cast or trolled. The Timber Doodle is ideal for hooking up with bass, walleye, trophy northern pike and many other game fish.
All Timber Doodles come packaged with three Mister Twister Split Double Tails. Five proven colors. Epoxy painted colors included firetiger and frog. 1/4 or 1/2 ounce. Silver and gold Timber Doodles are plated with genuine silver or 24 karat gold. Black Timber Doodles are black nickel. Saltwater Timber Doodles are 24 karat gold plated, and feature rust-resistant stainless steel split rings. They are perfect for redfish, specks and snook.
Saltwater Timber Doodle
Saltwater Timber Doodles' action is irresistible to many saltwater game fish. Because they flutter as they sink, they can be vertically jigged, cast or trolled. They are ideal for speckled trout and snook, but they really excel when fishing grassy flats for redfish.
All Saltwater Timber Doodles are plated with 24 karat gold for increased flash and attraction, and feature rust-resistant stainless steel split rings. They come packaged with three genuine Mister Twister Split Double Tails.
Rigging a Timber Doodle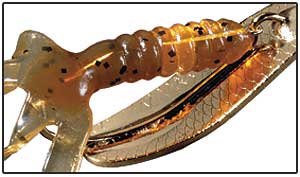 Note how the Keeper Hook "hides" the hook point just enough to keep the weeds off.
Whether you're fishing fresh or saltwater, Timber Doodles are rigged the same. Push the entire Keeper Hook bayonet into the head of the Mister Twister trailer. Then, insert the hook into the back of the body, pushing it through until the point of the hook comes through the top. Back it off slightly.
William Porciello – Plymouth, Connecticut
Fish Caught: Bass, Largemouth
Well, my buddy had live minnows. I had the Mepps Timber Doodle 1/4 oz silver with the 4" white split Double Tail Grub. We're on a drop-off casting into the open weed pockets letting the Doodle fall on its own. He would pull up a bass on live bait and I would, too. We went catching doubles for a while then the Timber Doodle decided enough was enough and pulled ahead on the numbers of bass caught. They stopped hitting the live bait and the Doodle stayed working. I didn't want to ruin my buddy's fishing trip, but, he learned a lesson about using quality lures. I did nothing but add a shot of bass scent and let it dance down in the weed pockets. Now, asks me, you don't have a few Timber Doodles yet? You haven't ordered it yet?
It's weedless and a fish catcher. It's skill that catches fish, not luck. The Timber Doodles make me look good every time I use them. You have to try this.
Joshua Murrow – Northeast, Kansas
Fish Caught: Bass, Largemouth
Mepps spinners and spoons are excellent outside of brush and weeds. When it comes to dropping the bait inside of cover where the big ones hide thats when the Timber Doodle comes into play. Floating vegetation where you have to fish slop is where the Timber Doodle works best. Just cast it and drag it across the top and shake it in the open pockets and hang on. Sperotic weed beds won't hang it up and where there are logs and trees, use the 1/2 ounce and drag it on the bottom and short hop it like a bass jig. Dynomite addition to the Mepps line up.
Joshua Murrow – North East Kansas, Kansas
Fish Caught: Bass, Largemouth
The Timber Doodle has ben around for over twenty years for one reason. It simpaly catches fish. Throw it in the weeds, trees logs or fish it in slop. You can't go wrong. Fish it like a bass jig hoping it off the bottom and it's dynomite. Thanks again Mepps for years of pleasure.
Ryan Avery – Gordon , Wisconsin
Fish Caught: Bass, Smallmouth
When I was four I caught a 21 inch 3 pound bass but my father had to reel it it cause of the size, and it was awesome. I used the Timber Doodle every since, now I'm 21.
Tunku Sufrizal – Temenggor Lake Malaysia
The Timber Doodle is the perfect lure lure for fishing shallow waters with heavy weedy cover for native Malaysian striped snakehead (Channa Striatus).
The Timber Doodle I used now are treasured lures brought back from the US circa 1994 and I wish Mepps are easily found in Malaysian tackle scene.
TGIF Outfitters – Onalaska, Wisconsin
Fish Caught: Bass, Largemouth - Pike, Northern
Hang on! That's my best advice with this lure. Skim it across the thickest garbage weeds and muck and watch the big pike and lunker bass explode under it. It drives the oinkers crazy. Best tip, make several casts in the same location as it drives the big ones nuts and they finally bite out of an agressive "I-have-to-kill-it" reaction. Bob Bott
Gene – Missoula, Montana
Fish Caught: Pike, Northern
I purchased a Timber Doodle to take on a Saskatchewan fishing trip. It was a whim. Something about it caught my eye. When I pulled it out of my tackle box on Limestone Lake, Bill, my fishing partner looked at it and said, "You'll never catch anything on that!" Two casts later I caught the largest northern of our two week trip.
It's the perfect lure in my book. It casts well, has a great action, a single hook which makes it easy to release fish, and works well in weedy pike habitat. Plus it was something I could needle Bill with for the rest of the trip.
Share Your Testimonial
Write a product testimonial and share your fishing experiences with other customers.