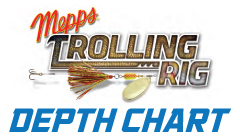 Click Here to View
Walleye anglers understand the effectiveness of trolling, especially when walleyes are transitioning to their post-spawn patterns. Trolling allows you to cover a lot of water and keep in contact with active fish. Not only is trolling one of the most productive methods for catching walleye, it's also known for producing BIG fish.
The Mepps Trolling Rig is unlike anything on the market, taking trolling to a whole new level. Each Mepps Trolling Rig features: an interchangeable spiral-wound stainless steel clevis; an oversized, brightly-colored, floating body which produces a tantalizing, slow sink-rate; a multi-colored bucktail dressed 2/0 single hook; and an ultra-flexible, kink-resistant 20lb. braided, stainless steel cable with a replaceable stinger treble hook.
The smaller size features a #3 French blade and #10 stinger treble hook. The larger size features a #5 French blade and a #6 stinger treble hook.
Be sure to read The story of the new Mepps Trolling Rig!
Kevin McKenna – Lake Erie, Ohio
Fish Caught: Walleye
Fished Lake Erie the week of April 18-25 in and around the Bass Islands. The water was a little cold (44F)for crawler harnesses, still did really well on the Trolling Rig at slow speeds all through the water column. (10-45 feet back with one ounce)We did the best on blue, crayfish and firetiger colors with Colorado Blades. If you are using them with large fish, change the trailer hooks out to larger hooks.
I can hardly wait to use it this summer here in Wisconsin. The extra bulk of the lure proved itself on Lake Erie for big eyes.
Share Your Testimonial
Write a product testimonial and share your fishing experiences with other customers.