by Mike Sheldon
Mepps CEO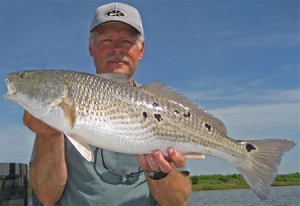 Do you know of any one lure that is so versatile it can be used to catch brook trout in a cold northern Wisconsin trout stream or redfish in south Louisiana salt water? That lure is the Mepps Little Wolf spoon.
Originally developed by my father, Todd Sheldon, in the 1950's, the Little Wolf was set aside when my dad had to dedicate all his time to the production and sales of Mepps spinners. I discovered the dozen or so samples in a dark corner of a gun cabinet, where they likely were placed 50 years ago. I was intrigued by the spoon's action in the water, so development continued. The goal was a spoon that would not roll and twist your line as easily as other spoons, and it also needed to continue it's enticing wobble at very low speed.
My dad was working on his little spoon to fish in his favorite stream, the Wolf River, for trout. Since spoons are effective on a variety of fish we developed larger sizes too. I was anxious to get out on our local trout streams this past spring to fish with final production models. I wasn't disappointed. The 1/8 and 1/4 oz. sizes were a pleasure to cast and maneuver through the current. They proved themselves in the trout streams, as well as in our local lakes for crappie and even bluegill. The larger, 2/5 oz. and 3/4 oz. Little Wolfs worked, as expected, on larger freshwater predators.
Recently, I had the opportunity to go to Hackberry Rod and Gun in southwestern Louisiana to fish saltwater for speckled sea trout and redfish. Having fished there 10 or 12 years ago I anticipated some fast action. Hurricane Rita had devastated the entire area so I wasn't sure what to expect as far as accommodations. The Stansel family had risen up out of the rubble, however, and rebuilt the facility better than ever. Fine accommodations, good food, experienced guides and a you're among friends atmosphere.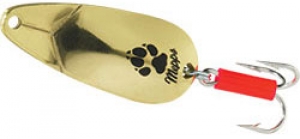 Almost as an afterthought, I took just four 2/5 oz. brass Mepps Little Wolfs with me as I understood redfish like spoons. If redfish like spoons I'd have to say they are passionate about the Mepps Little Wolf. Our group of four fishermen nursed those four spoons through three or four days before finally losing the last one on a nice redfish.
The fact our guide Kirk Stansel was impressed with how the Little Wolf caught fish, was nice. "I noticed you don't get line twist using that spoon," he commented following our first day on the water. "Normally we have to use swivel when we fish spoons or we get terrible line twist." I had to smile. His comment only served to reinforce what I already knew. . . The Little Wolf has a great design. And that - of course - was one of our objectives in the development of this spoon.