Inland Trout Tips & Tactics
By Rob Mackesey
Greetings Mepps Family,
I hope you all are having an excellent start to your year thus far! Today, I wanted to focus on some of the key elements for having a successful Inland Trout Trip. Below, I have outlined a few of these tips that have brought me success throughout my fishing journeys.
Do Your Research
As consistent in any fishing adventure, you want to make sure that you know exactly what you're getting into. First and foremost, focus on your target species. While staying in compliance with regulations, you want to make sure that you are going to be bringing the correct tackle to match your target species. If you are fishing a small creek for Brookies, small spinners will typically bring home the bacon. Whereas, if you are going to target Giant Brown Trout from a Great Lakes Tributary, a double bladed spinner or heavy spoon may just be the moneymaker as you're now able to get down to their depth through the thicker current. Simply said, understand the body of water that you are venturing to.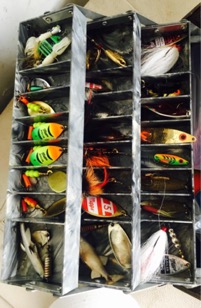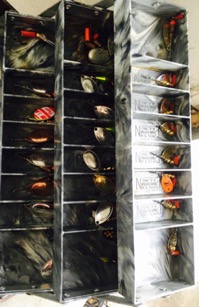 Pack Light & Pack Smart
We've all been there; tired, sweaty, and caught dredging through the tough inland trout terrain with excessive amounts of gear in hopes of finally catching "the big one". There are few more frustrating things than getting your gear caught on trees, bushes, or fallen branches. On the contrary, if you do your research prior, you can pack efficiently as opposed to being over prepared. With that being said, any simple hand-me-down backpack can be turned into trout fishing live saver in minimal time. Strip the bag clean, grab a few lure boxes and gear up with a dozen of your preferred lures. Pliers and a nail clipper/knife are small enough to fit in any of the pockets and this will free up your hands to carry your rods, nets, etc. By following these simple tricks, you will be able to trek from each of your favorite honey holes efficiently and effectively.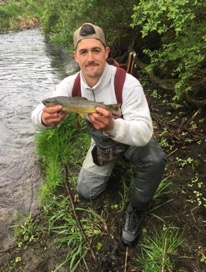 Account for Weather
A few days prior to your trip, it is wise to check the weather forecast for your target area as it could impact the arsenal that you prepare with. I have included a general Spinner Blade reference to follow based on the weather you are being faced with. If your forecast is showing nothing but blue skies, throw on a Silver Blade Spinner. The sun will reflect bright on the Silver Blade, making your presentation very intriguing to a hungry trout. If you're looking at an overcast type day, Gold Blade Spinners are going to be key. This color blade typically produces some of the highest reflection, despite not having any help from the sun, which can be important when the skies are gray. If your trip falls on a day after a heavy rain storm or you're fishing in water that may be a bit murky, go ahead and throw a Copper Blade Spinner. Once again, the Copper finish will allow you to maximize on the highest reflection given the tough water visibility.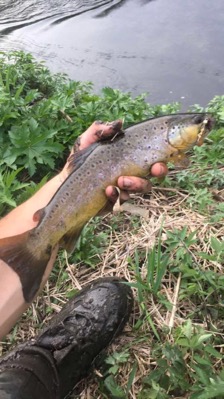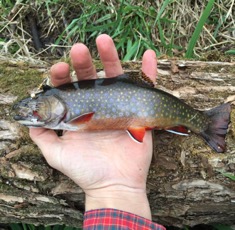 Rob's Savvy Selections
Through the years of Inland Trout Fishing, you become accustom with your favorite lures to throw; whether it was the one you caught your first trout on or the one that helped land your biggest fish so far. I have included a couple of my favorite go-to Inland Trout lures and encourage you to give them a shot next time you are ready to hit the water!
Small Water
Mepps Aglia Wooly Worm Spin Flies- Available in Black, White, Orange, Brown, Green and Yellow. These Spinners are an absolute staple in any of my Trout Boxes. Not only have I experienced the most consistent success with these, but also have landed my largest Brookie & Brown to date. Available in 1/12 oz, this spinner is light enough to conduct the slowest of retrievals, maximizing strike odds on each cast.
Big Water
Mepps Little Wolf Spoon-Don't let the "Little" part fool you, these spoons are available in 1/8 oz, 1/4 oz, 2/5 oz, and even up to a 3/4 oz option. They provide the weight and flare necessary to tempt the largest of freshwater fish. There are a dozen different color pattern options available and each bring their own respective vinyl & acrylic oven-baked finish to protect from wear & tear. Pack a Little Wolf on your next fishing adventure, just remember to bring a big enough net!