by Greg Haut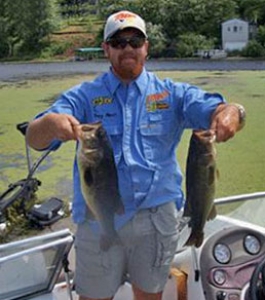 Many anglers motor past an area claiming, "What a weedy spot," not even realizing that monster Bass could be lurking below the weeds and slime. Too many anglers tend to stay away from the weeds because they're afraid of their fishing lure or trolling motor getting packed with weeds. I say fish those spots.
Once you've positioned your boat in the thick of things, equipment becomes very important. A 6 to 7 foot heavy action rod with a fast tip is a must. You need a good strong backbone, and the tip needs to be fast in order to accommodate changes in retrieve. Whether you are shaking the rod to add vibration or reeling fast to let the lure skip at it's own pace, the rod also has to be strong because a 3 lb. bass can bury into 15 lbs. of weeds and you need to be able to pull the fish and the weeds along the surface in order to boat the fish. Line becomes important as well. A strong braid is the line of choice. You can get a strong braided line with a thin diameter which allows for easy casting. I personally use 50 lb test, and some of my slop rods contain 80lb test. It is a matter of what your intentions are.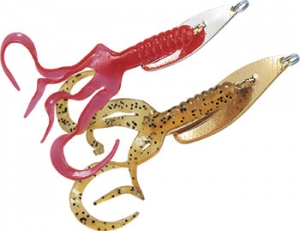 Once you are back in the slop, with the perfect rod and the right line you begin to wonder, "Can I possibly cast through this?" You can with a Mepps Timber Doodle. When retrieved slowly over the weeds it can imitate a frog. You can also slow down the retrieve and allow for the lure to sink into the open pockets. Be creative and try different tails. Just because a lure comes with a certain tail doesn't mean others won't work as well. Also try adding noise to the lure, take tube rattles and attach them to the line before the split ring for an added noise that drives bass crazy.
If the Timber Doodle doesn't call out the bass a Black Fury Combo or Comet Combo should. These weedless spinners produce a vibration fish can feel. Don't be afraid to experiment with tail length. Start with a 4" grub and work your way up to a 10" ribbon tail worm. Add scents and rattles to either of these Mepps Combos and you might have what it takes to call-out a hiding Bass.

When there are overcast days or the sun is nowhere in sight, tie on the Black Fury Combo. The Black Fury line of lures excels when the sun is rising or setting especially. When the sun is out tie on a Comet Combo. Silver is a great color because, like all Mepps spinners, the silver Comet Combo is plated with genuine silver for a bright white flash. Keep experimenting. Experimentation is the key to making a fish ambush your presentation. Park your boat just outside the slop and cast horizontal to the weed edges. A big bass can mistake either of these weedless spinners for a shad or other baitfish. Vary your retrieve speed. Let the lure sink then bounce it back like an injured minnow. Or, "burn" it back to the boat.
When fishing slop, long casts, are important. You need to cover a lot of water to find the fish. Look for consistency in the weeds, a color change in the slime, or the way the lily pads are lined up. These subtle differences are the key to establishing a successful pattern. Pay attention to details and you'll be pulling hawgs out of the jungle in no time. Never be afraid to work the same area more than four times. Many times the fish need to be aggravated in order to strike, and it could take a few casts over the exact same spot, but the results make every cast worth while.
By combining these elements you should be able to locate some nice bass in any body of water. Whether you are in thick weed mats, lily pads or slime, pay close attention to where the fish are coming from. They are ambushing baits from where they were hiding for a reason. Good luck and see you in the jungle.