Mepps Little Wolf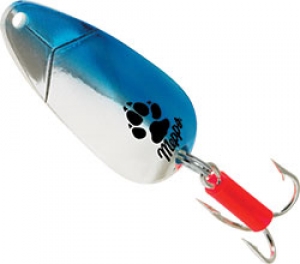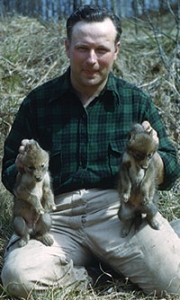 Back in the early 1950's, Todd Sheldon owned and operated Sheldon's Sport Shop, a retail sporting goods business in Antigo, WI. Although he found it necessary to spend most of his time at his shop, he did make time to go fishing. Langlade County's Wolf River was Todd's favorite place to fish for trout. At the time, he had two lures he found to be very effective fish catchers. The first was a Mepps spinner. A local GI who had brought some home from France after WWII had introduced them to him.
The second was a hand-made spoon. Todd had designed and developed himself. He wanted a spoon he could cast in streams, rivers and lakes.
We all know what happened once Todd began trading nylon stockings to a woman in France for the first few Mepps spinners he sold. It wasn't long until he had the exclusive rights to sell Mepps spinners in the United States.
The entire process consumed nearly all of his time. With sales continuing to grow, he sold his sport shop for the opportunity to sell Mepps spinners exclusively. His hard work paid off. It wasn't long before the Mepps spinner became the World's Number One Lure.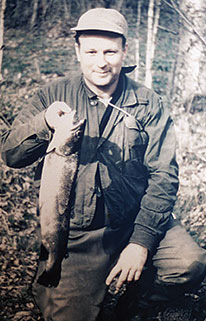 Until recently, the success of the spinner forced the spoon to remain anonymous. It was forgotten for decades until Todd's son Mike, Sheldons', Inc. current CEO, came across some of the original models hidden away. He took them fishing and soon discovered they not only caught fish, but they cast effortlessly.
Modifications were attempted, but, it quickly became clear there was no way to improve on the spoon's original design. So, our "new" Little Wolf is the same spoon Todd Sheldon used to catch fish on the Wolf River in the 1950's.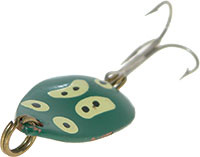 The Little Wolf is for any angler who appreciates the handcrafted quality of yesterday and the vibrant fish-attracting colors of today. comes in two sizes, 1/8 oz. and 1/4 oz., and 12 vibrant colors, including three GLO (Glow in the Dark) colors.
Check out these features . . .
a rugged, solid brass spoon that will not rust or tarnish like many other ordinary spoons. Spoons not made of brass do not function properly by comparison and fail to maintain their ability to catch fish for as long.
Its genuine silver-plating creates one bright white flash after another as it is pulled through the water. The flash produced by nickel or chrome is not nearly as bright or as white in color as the one produced by silver under the same conditions.
Its reverse-curve design features ten distinct, highly-reflective surfaces that disburse light equally in all directions. Spoons without the same design have gaps or spaces as well as overly intense bright spots in their area of coverage.
It features a perfect blend of vinyl and acrylic oven-baked finishes with a contrasting logo for maximum visibility and durability. Our standard and glow finishes are far more chip resistant than similar finishes on products produced by our competitors.
Its razor-sharp, perfectly honed hook with high-visibility strike-attractor tube entices more fish to strike and yields a higher hooking percentage than our competition. Not only do we put a larger hook on our spoon, but, we also use a strike-attractor tube. These features are relatively uncommon because they generally inhibit the action of the spoon.
It is perfectly balanced to maintain the same intense side-to-side wobbling action at all retrieve speeds. The Little Wolf does not stall when you stop your retrieve. Instead, it maintains its action as it falls. Our spoon does not start to roll as quickly as our competition when you increase your retrieve speed. This is important because rolling creates line twist.
With three years of development and stringent testing, each Mepps Little Wolf performs flawlessly right out of the package. It's perfect for casting or trolling, and ideal for streams, rivers and lakes.
Use 1/8 oz. Little Wolf spoons Stream Trout and Panfish

Bluegill
Crappie
Stream Trout
Use 1/4 oz. Little Wolf spoons for Smallmouth Bass & Walleye
Smallmouth Bass
Walleye