By: Mepps.com Staff
Mepps spinners are designed for different depths and vibrations. In this article, we'll be exploring how the Aglia, Comet and Black Fury, and Aglia Long blades work.
If you were to retrieve Mepps Aglia, Comet or Black Fury at the same speed, the depth at which they would run, the rate at which the blade revolves around the spinner body, and the pulsation given off, would be different with each style.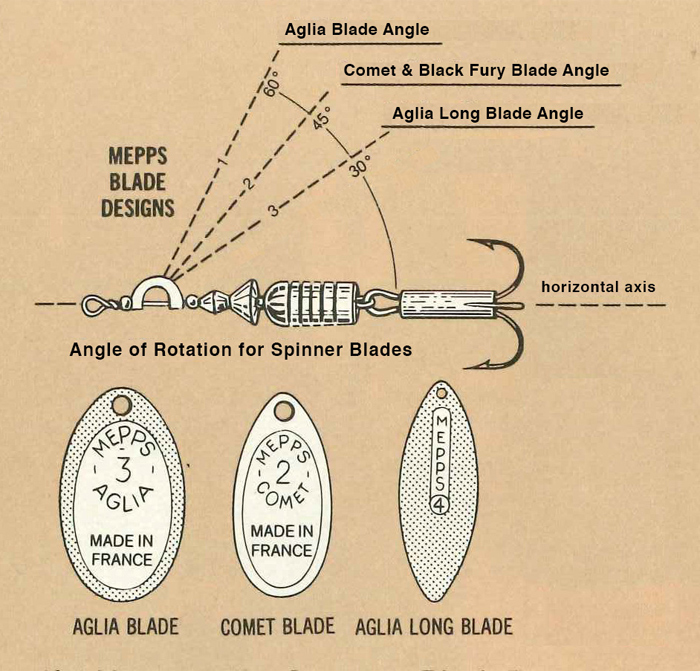 Aglia
The Aglia style blade is the original Mepps spinner. The blade revolves at about a 60° angle from the spinner body. This blade will spin at very slow retrieved. By cranking this spinner in with a fast retrieve, it can be brought in just under the surface or buzzed right along the surface quite easily.
Comet & Black Fury
Black Fury spinners use the Comet blade. Comet and Black Fury blades spin at about 45°. These spinners will run deeper on faster retrieves. After spawning, when fish move to deeper break lines, the Comet and Black Fury are ideal for getting to them.
Aglia Long
The Aglia Long blade spins very close to the body, at about a 30° angle. The Aglia Long is ideal for deeper water or fishing in heavy river currents.

Mepps spinner blade styles allow you to fish under virtually all conditions.