by Ted Peck, Wisconsin Fishing Guide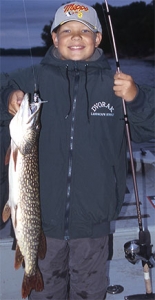 Young Tommy Dvorak has already learned the definition of a pessimist is an optimist with experience. In spite of several fishing adventures on the Mississippi River with his Dad and brother DJ, the Janesville, Wisconsin youngster had yet to boat a fish.
This benchmark was achieved when a respectable white bass drilled Tommy's Mepps spinner... a white dot Black Fury. It was followed by several more "whiteys," a smallmouth and several largemouth bass. Tommy told his father, Dave, that he was ready to tangle with northern pike, and a few minutes later a 20 inch northern chomped that Mepps. Tommy was not impressed. "I thought pike were supposed to fight harder than that!" he grumped. Dave assured the lad that a substantial specimen would definitely stretch his string and fishing ability.
Tommy went back to pitching the Mepps, lower lip stuck out in a determined pout. The kid needed to get hooked up before concluding that diddling with his Game Boy would provide more entertainment. I told young Dvorak that before the day was over he would tangle with a "toother" longer than his leg. Tommy looked down at the appendage in question, then back at me with an educated sneer.
"Na-aaa!" He blurted.
"Uh-huh!" his Dad countered.
After several more rounds of identical verbal exchange 14-year-old DJ offered the suggestion that getting lines back in the water would settle the issue once and for all. Dave Dvorak, Jr. is already an experienced angler with many bass, panfish and walleyes to his credit. The fact that he was out fishing Tommy about 3 to 1 did not escape little brother.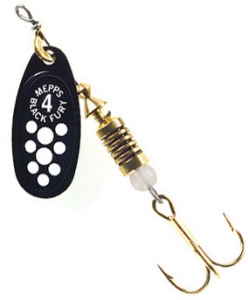 Tommy's face twisted in a combination of excitement and vindictive glee when a considerably larger fish inhaled the Black Fury spinner and started heading downstream. Line burned off Tommy's spincast reel . Tommy struggled to follow Dad's advice at keeping the rod tip up. The pike had other ideas. It took a good five minutes before this toothy critter could be led to the net. Once this fish was safely on the stringer Tommy held it along side his leg, then looked up at Dad with a Cheshire Cat grin. He had whupped the biggest fish of his life. The conquest let all thoughts that he had a Game Boy in the boat slip away. Even with advances in electronics tweaking your older brother is still more entertaining.
"MY fish is bigger than YOUR fish!" Tommy taunted.
"Yeah, but my fish is better, Tommy. A four-pound bass is better than a silly pike, isn't it, Dad?!"
Dave showed Solomon's wisdom in praising both boys' accomplishment while battling a smallmouth of substantial dimensions. I pondered the panorama of this living sitcom over a cup of coffee while marveling at the majesty of the Mississippi.
"Exactly how long is your fish, Tom ?" I asked, gesturing toward the yellow DNR stick-on ruler on the Lund's rod box. Tommy didn't need further prompting to reach for the stringer. After marking the exact length with a forefinger poking himself at about waist level Tommy slipped the fish back into the water and walked toward the front of the boat. Carefully placing his leg on the tape with the bottom of his foot at the zero mark Tommy eyed the position of his index finger at waist level in relation to the ruler and trumpeted "At least 30 inches!"
"Na-aaa!" His brother barked.
"Na-aaa!" his Dad chimed in.
"Uh-huh!" Tommy countered in righteous defiance.
The size of the prize isn't the point. When the family is fishin' everybody wins.