by Ted Peck, Wisconsin Fishing Guide
Spring is not a good time to be a young shad on the Mississippi River. Young-of-year shad are now about 2-3 inches long and programmed to swim en masse upstream. Predators both piscatorial and of the feathered variety are aware of this migration, with the entire scheme of things coming together in what can only be described as a feeding frenzy.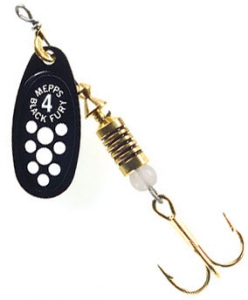 Fishermen which have stumbled into this pattern and made careful note, can join in the melee with fishing action simply beyond compare. When you're in casting range of shad on the "jumps" we're not talking a vicious strike on every cast, we're talking two or three strikes if a rampaging white bass doesn't impale itself on your hook at first contact.
Just about any lure with a shad appearance will work when the jumps are on. Small topwater lures, blade baits, jigheads with white Mister Twisters and spinners have the potential to keep your rod in a perpetual bend.
The Mepps® White Dot Black Fury may just be the hottest white bass lure of all time.
The size, colors and action of this bait resemble a shad.
This spinner, on a single trip, put over 500 white bass in my boat.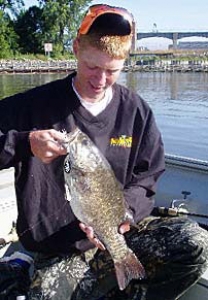 That doesn't count the northern pike, largemouth bass, smallmouth bass and several walleyes which were intent on reinforcing the notion that now is not a good time to be a shad on the Mississippi River.
The biggest critters to fall to this bait were a 37-inch pike and a whopping 6-pound 14-ounce smallmouth bass (left) caught by my 17-year-old nephew Darrin. This bronzeback was only about 21 inches long . But it had a girth of over 16 inches.
Although the huge smallmouth was thrilling it was the white bass - and a 15-pound sheepshead - that kept Darrin excited.
One memorable moment came when gravity and frayed line took the second of my three Black Fury's. It swam away in the mouth of a 16 inch white bass Darrin had managed to get boat side. Another is still snagged in a wing dam.

By the time Darrin went home and Beloit firefighter Bobby Burnett showed up for a couple day's fishing there was only one #4 Black Fury left in our armament - and no more in the boat.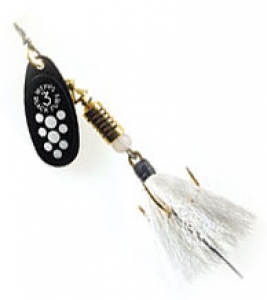 Bobby had to leave my Lund twice to retrieve this "silver bullet" with his tree-climbing rescue over churning waters the most amusing. No complaints on his part. Burnett, an avid angler, said catching those 200 plus white bass was the most exciting fishing action he had ever experienced.
Smart fishermen know that timing is everything. And nature's timing has no regard for societal impacts like work, family commitments or concepts like "the weekend."
No, Spring is not a good time to be a young shad living near barriers like wing dams on the Mississippi River. But it's a great time for you to fill the livewell.
For more information on the Mepps Black Fury go here: Mepps Black Fury