By: Mepps.com Staff

Why squirrel tails? Why not fox, coyote or some other kind of tails? There are several reasons. If you examined a squirrel tail, you would find it is made up entirely of hair. Even next to the bone there is no under fur. Practically all other animals, such as fox, coyote, badger, mink, etc. have fur tails, with just a few guard hairs. On examination you'd find the bone of their tails completely surrounded with a thick, fuzzy type fur that is not suitable for use on our Mepps spinners. We've tested and experimented with many kinds of tails and materials, including synthetic, and none has the rippling, pulsating movement you find in squirrel hair when it is in water.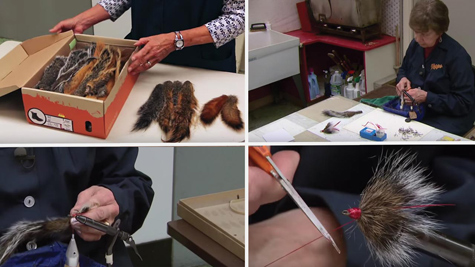 Another reason is the fact that squirrels are plentiful in most areas of the United States. Because squirrels are prolific, raising two to four, sometimes more young a year, hunting does not reduce their numbers to any degree.
Still another reason is the fact that squirrel is some of the best wild meat. Hunting them in their natural habitat in the fall of the year is a challenge and thrill for any small game hunter.
If you hunt squirrels, be a good conservationist and don't waste any part of them that can be recycled. Their skins are often used for fur trim; made into caps, fur coats, glove linings and other uses. However, the tail is a by-product that many hunters throw away. Throwing squirrel tails away is a waste of a resource. If a person is going to hunt any game animal for meat, then as many parts as possible should be used. For squirrels it would be the skin for purposes mentioned, and the tails for use on Mepps spinners.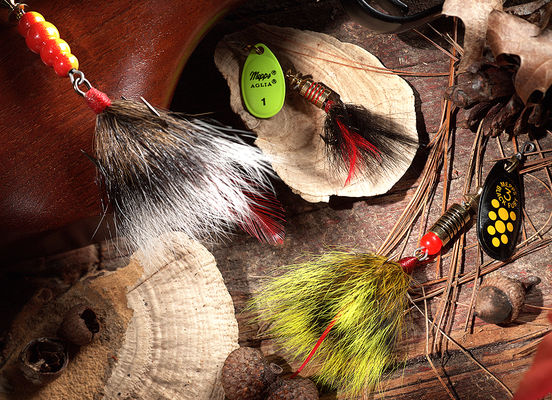 Sheldons' buys many squirrel tails tails each year. With the dressed lures becoming more in demand and less sportsmen hunting squirrels, our need for squirrel tails isn't being satisfied to the extent of our use. In the plant, squirrel tails provide full time employment to people who check them in when they are received. Each tail must have the butt end cut off and go through seven steps of processing from the time they are purchased to when they are sold in a store.
If you're a squirrel hunter, we'd appreciate either buying your squirrel tails, or having you trade them for spinners. Check out our Squirrel Tail Program and send squirrel tails to the address listed below:
Sheldons', Inc.
626 Center Street
Antigo, WI 54409