Musky Caught by Nam with Mepps Magnum Musky Killer in Minnesota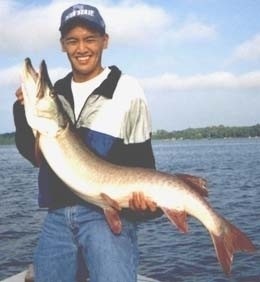 Download Image
Fish Information
Fish: Musky
Size: 48.5-inches, 27.5 lbs.
Lure Information
Lure: Magnum Musky Killer
Color: Black & Orange
Angler Information
Angler: Nam Nguyen
From: Burnsville
Country: United States
My Story
On Saturday morning of August 2000, we got to the lake about 6 a.m. I spotted several surface disturbances immediately. The fish seemed to roll over on the surface, sun-bathing or something. Some of those fish had to be in the upper-30s to mid-40 inch class range. We trolled around the structure where we saw the disturbances hoping the topwater lures would at least trigger one to strike. Nothing happened until 7:30 a.m. My partner cranked a bucktail over submerged weedbed and had a follow by a 40+ inch fish. He tried a figure-eight at the boat, but no luck. About 8 a.m., I also had a follow by a nice fish only to turn away at the last minute at the boat. About 8:40 a.m., I threw a Mepps bucktail again right over top of the submerged weedbed and hooked what could be the largest fish in my life... I yelled out to my fishing partner Jim "It's a big fish!" I don't yell that very often, so I knew what I had at the end of my line was very special. Seconds went by... And the fish seemed to get stronger. All I wanted from this fight was to see how big this fish was. Each time I brought the fish up to the surface she would dive back down to the depths. The fish seemed to nose dive from one side of the boat to the other. After four minutes or so, I got her up to the surface and a quick flash of her wide back and Jim gasped "Oh man..." I followed the fish and kept the pressure until the fish got somewhat tired. Jim was excited about the fish as much as I was. He finally put his net down into the water and netted a...49-inch mammoth musky! It was a dream of a lifetime for me! Thanks to Jim and the Mepps spinner!
Catch Information
Caught at: Lake Minnetonka
State: Minnesota
Country: United States