Bass Caught by RANDY with Mepps Magnum Musky Killer in Virginia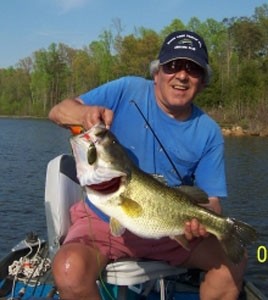 Download Image
Fish Information
Fish: Bass, Largemouth
Size: 25 1/2" 10lbs. 8 Oz.
Lure Information
Lure: Magnum Musky Killer
Size: 1 1/4 Oz.
Color: Chartreuse/Orange
Angler Information
Angler: RANDY POLISKY
From: ROCKVILLE
Country: United States
My Story
I was fishing a weed bed, just offshore, during the pre-spawn in April. The tops of the weeds were only about 1 1/2 feet below the surface. I anchored my boat and cast parallel to the shore; I would begin reeling. Before my lure even hit the water, so it wouldn't sink much. I retrieved slow and steady - making a wake below the surface. The Hawg hit the lure on about my 4th cast.
Catch Information
Caught at: Goochland
State: Virginia
Country: United States
Caught On: Friday April 25, 2008