Bass Caught by Jon with Mepps Black Fury in Maine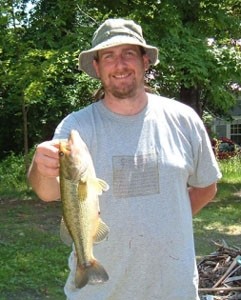 Download Image
Fish Information
Fish: Bass, Largemouth
Size: 16" - Just Under 2lbs
Lure Information
Lure: Black Fury
Size: 1
Color: Black/yellow
Angler Information
Angler: Jon MacQuarrie
From: Bridgton
Country: United States
My Story
I know this fellow isn't overly large compared to some of the other great catches I've seen on this site, but considering the tiny little pond I snagged him out of, he's quite impressive.

This was my second foray with the Black Fury. My first was last week when I used the same lure (size 2) to reel in a 14" smallmouth.

I chased after this fish for the better part of two hours. All the bass were coming up out of the water, feeding on the nymphs along the shallows. I'd gone through an array of bait: worms, various Blue Fox lures and even my old standby, the Super Duper #503. I was catching tons of fish (16 for the morning), but nothing over 10".

I tied the Black Fury onto my swivel and cast out before I started paddling to the other side of the cove so I could drift back over the trout. Halfway to the other side of the cove, I watched my pole bend and twitch. I grabbed it, set the hook and fought for the better part of five minutes, while all the kids in the camp across the pond whooped and cheered me on.

I pulled him into the boat, feeling like a rock star (I even yelled "Hello Cleveland!" for no other reason than to be goofy; that, and I was the only angler pulling fish out of the water) and got the measurements using my top of the line WalMart fish tape and scale.

I've tried a zillion lures over my years of fishing, and have to say that my Black Furies (all five of them) now sit in the top tray of my tackle box right next to my Super Dupers... and seriously guys, that's really saying something about your lures.

Thank you!
Catch Information
Caught at: Adams Pond, Bridgton
State: Maine
Country: United States
Caught On: Tuesday June 24, 2008