Steelhead Caught by Ted with Mepps Trophy Series in Indiana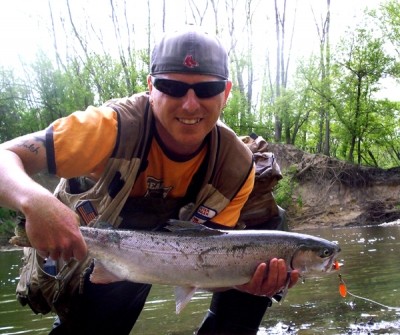 Download Image
Fish Information
Fish: Steelhead
Size:
Lure Information
Lure: Trophy Series
Size: #3
Color: Fluorescent Orange Body/silver Blade
Angler Information
Angler: Ted Najzer
From: Portage
Country: United States
My Story
Was out looking for some leftover steelhead. Found a few around still. I got this fish holding the spinner in the current in a deep pool. Was a fun Mepps catch. I also landed another fish at another spot today. Lost 2 fish that hit on the redds. So I was 2 for 4 today which is great for this time of year. Plus there were only 15 fish that I saw today. Man if these fish stick around for a while longer, I might be able to catch spawning steelhead and fresh summer run skams at the same time. It's gonna rain tonight maybe some skams will start to come in. That would be great.
Catch Information
Caught at: Salt Creek
State: Indiana
Country: United States
Caught On: Thursday May 7, 2009