The Mepps Trophy Series features all the colors preferred by trophy salmon and steelhead fishermen throughout Alaska, the Pacific Northwest and the Great Lakes.
Available only in sizes #4 and #5, these Mepps spinners are designed for anadromous fish, from their perfectly formed eye down to their computer age extra sharp, strong hook. Available with either treble or single hooks. Blades and bodies are solid brass. Environmentally safe. No lead components.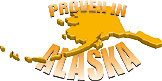 The spinner shaft is stainless steel to resist the elements. Silver blades feature genuine silver plating for maximum flash at all depths and under all water and light conditions. Painted blades and bodies feature brilliant epoxy finishes that are both fade and chip resistant. If you're planning a fishing trip to Alaska, these spinners were designed with you in mind.
Ryne Hansen – Pend O'Reille, Bayview, Idaho
Fish Caught: Bass, Largemouth - Bass, Smallmouth - Bluegill (Bream, Brim) - Crappie (Black) - Perch, Yellow - Pike, Northern - Trout, Dolly Varden - Trout, Lake - Trout, Rainbow
Silver Mepps No. 4 are the best, most consistent lure I've ever used. Over my lifetime the biggest, and the most fish I've ever caught were all on Mepps.
Mountain Man – Englewood, Colorado
Fish Caught: Trout, Rainbow
I've been fishing for trout now since November of last year testing lures and colors every week and more. I have caught most of my browns and rainbows on Mepps inline spinners, dark green with a brass blade,and all chartreuse 1/6 to 1/4 weight also will bring up fish from the holes with a hard hit that always lands a fish. In my opinion they are the best spinners for Colorado rivers and streams, followed of coarse by Panther Marten spinners another great lure. I switch back and forth between the two and try different colors but ALWAYS go home during season with fresh fish.
Richie Cal – Finger Lakes, Great Lakes, NY, New York
Fish Caught: Bass, Largemouth - Bass, Smallmouth - Pike, Northern
The vey simple Silver/Silver or Silver/Blue was an unbelievable producer for smallies in clear water. Burn it as fast as you can and hang on tight! The pike and largemouth slammed it when it was reeled just above the weeds.
Share Your Testimonial
Write a product testimonial and share your fishing experiences with other customers.