Drum Caught by Jeffrey with Mepps Aglia Long in Missouri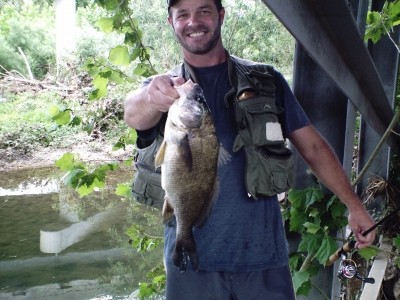 Download Image
Fish Information
Fish: Drum
Size: 18" - 5lbs.
Lure Information
Lure: Aglia Long
Size: #1
Color: Orangebo Scale - Black Tail
Angler Information
Angler: Jeffrey Voss
From: Imperial
Country: United States
My Story
I took my stepson fishing to the stream where I had caught a heap of nice fish on the previous day.... I was bragging to him about how I had spotted a bunch of big fish, all stacked in a deep hole underneath a bridge. I could make out the shadows of some really nice largemouths and at least one big walleye, but there were a few mysterious dark shadows even deeper that I just couldn't decipher.
The boy and I began throwing everything but the kitchen sink at them, but could not seem to entice them with anything. The last thing I tried, was a #1 Aglia Long in orangebo scale, but I couldn't get it deep enough to make a decent presentation for the shadowy monsters. So I decided to give up, and began to walk away when I spotted a small pool of water separate from the stream, just filled with crawdads.
In one last attempt, I captured one of the crawdads and hooked him through the tail with my Aglia Long. The crawdad added just the right amount of extra weight to my Mepps to get it deep enough to be in the strike zone. I threw it right in front of one of the large dark shadows, and pulled out this beautiful, 5 pound drum.
Proof again, that Mepps can catch anything as long as you can get the lure to the right spot!
Catch Information
Caught at: Bloomsdale
State: Missouri
Country: United States
Caught On: Sunday July 19, 2009