Pike Caught by Chris with Mepps Musky Killer in Ontario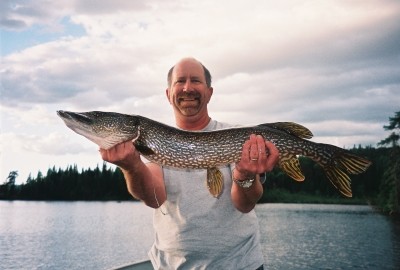 Download Image
Fish Information
Fish: Pike, Northern
Size: 36.5"
Lure Information
Lure: Musky Killer
Size: #5
Color: Red And White Blade, Buck Tail
Angler Information
Angler: Chris Karnish
From: Port Washington
Country: United States
My Story
I had the greatest fishing evening of my life. Three Trophy Northerns in 12 casts. The fish had not been biting for two days so we decided to go up into a warm bay. I hadn't tried fishing a spinner so I took out a brand new Mepps #5 Musky Killer red and white blade with bucktail. My third cast I nailed a 29" northern right at the boat. My buddy threw his in the trees so we had to untangle him. We moved up the shore and on my fourth cast from there I nailed this 36.5" pike right at my feet again. I retied my leader (and rested) while my buddy fished. When I was ready to fish again, I hit a 30" Northern with my 12th cast total of the evening. What a memory! My buddy caught nothing, but, I sure kept him busy. My three notherns in 12 casts were the three biggest fish caught in camp that week.
Catch Information
Caught at: Red Lake
State: Ontario
Country: Canada
Caught On: Tuesday July 14, 2009