Musky Caught by Jason with Mepps Musky Killer in New York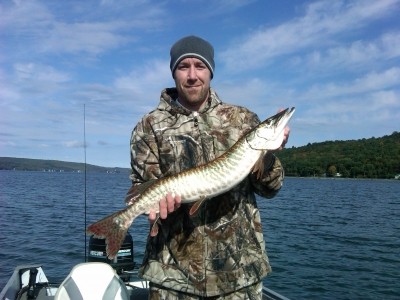 Download Image
Fish Information
Fish: Musky
Size: 34 Inches, 10 Lbs 4 Oz.
Lure Information
Lure: Musky Killer
Color: Gold Blade, Yellow Skirt
Angler Information
Angler: Jason Allen
From: Endicott
Country: United States
My Story
I was fishing to south end of Otisco Lake on a cool, sunny, fall day. I was approaching some fallen trees on my right and open water on the left. Through the clear water one could see thick weed beds submerged on the left. The water at Otisco Lake is clear, with a slightly green tint, a perfect match for the musky killer I was using. I started the day using an orange bladed, black and orange skirt musky killer, but I lost lure when the swivel snapped open from a back lashed halt during a cast. Dejected, I figured I would try my gold bladed, yellow skirt killer; I noticed that the blade was really shining in the water. Getting back to the approach on the lake, I was even with the fallen trees on my right, so I casted to my left over the weed beds. On the retrieve I could see the sparkling of the blade through the water, and when the lure was about 15 yards from my boat the Tiger Musky struck hard. The fight was about 5 minutes, but I was able to net him myself and get him into the boat. The trouble with fishing alone is that there is no one around to take a picture of your catch, so I looked around the lake and found a fellow fisherman; he was gracious enough to take this photo for me- a memory that will last a life time!
Catch Information
Caught at: Otisco Lake
State: New York
Country: United States
Caught On: Sunday October 3, 2010