Trout Caught by Marcelo with Mepps Black Fury in Argentina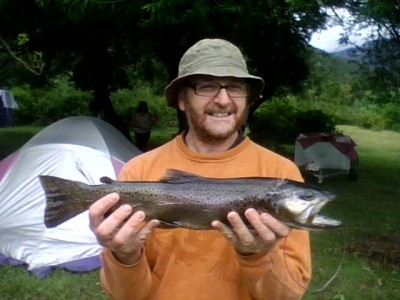 Download Image
Fish Information
Fish: Trout, Brown
Size: 21 X 11
Lure Information
Lure: Black Fury
Size: 3
Color: Yellow
Angler Information
Angler: Marcelo Gianola
From: Ing. Maschwitz
Country: Argentina
My Story
I fished in the Rio Docile Medium, close to the city of Bariloche. It was hard launching since the coast is on a track in the middle of of a deep one with fish hole under some willows. Exactly on the way out of the track, entering upon an area of being eaten, this male one (thin by that. hit my lure. The team was composed by an of fiberglass Budak of the 70, a reel Mitchell and naylon 23. (Spanish)
Pescaba en el Rio Manso Medio, cercano a la ciudad de Bariloche.
Estaba lanzando desde la costa sobre una corredera en el medio del río y recogía pasando por la cola de un pozón profundo debajo de unos sauces. Precisamente a la salida de la corredera, entrando al pozón estaba comiendo este macho (delgado por la época del año). El equipo estaba compuesto por una caña de fibra de vidrio Budak de los años 70, un reel Mitchell y naylon 23.
Catch Information
Caught at: Rio Manso
State:
Country: Argentina
Caught On: Monday January 3, 2011