Peacock Bass Caught by Luis Fernando with Mepps Aglia Long in Colombia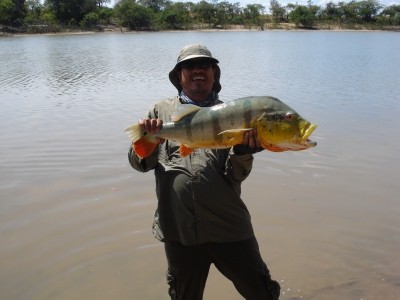 Download Image
Fish Information
Fish: Peacock Bass
Size: 32 Inc 20 Pounds
Lure Information
Lure: Aglia Long
Size: 3
Color: Silver
Angler Information
Angler: Luis Fernando Gutierrez Sarta
From: Cali
Country: Colombia
My Story
I went to Puerto Carreño, Province of Vichada in Colombia, South America. I caught this Peacock Bass on my fourth fishing day in a big lake beside the Rio Bita. I had been catching many bass, but it was the biggest caught. I used an Aglia Long No. 3 Silver; I took many pictures and a video too.

The trip was amazing and wonderfull.

This Peacock bass was Caught and Released.

Luis Fernando Gutierrez Sarta.
Catch Information
Caught at: Rio Bita - Vichada
State:
Country: Colombia
Caught On: Monday February 7, 2011