Musky Caught by Jason with Mepps Musky Killer in New York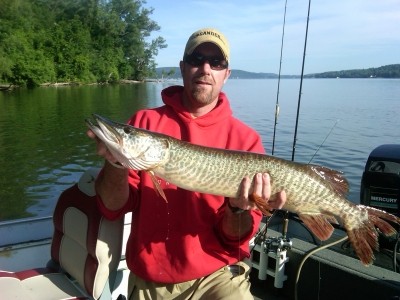 Download Image
Fish Information
Fish: Musky
Size: 40 Inches, 15 Lbs.
Lure Information
Lure: Musky Killer
Color: Gold Blade, Yellow Tail
Angler Information
Angler: Jason Allen
From: Endicott
Country: United States
My Story
I was casting over some weed beds at the south end of Otisco Lake Father's Day morning when this musky crushed my Gold Bladed, Yellow Dressed Musky Killer. This is the biggest Musky I've caught to date. My Musky Killer was bent up and the skirt was nearly stripped clean- I'm going to need another lure! It was a great Father's Day!
Catch Information
Caught at: Otisco Lake
State: New York
Country: United States
Caught On: Sunday June 19, 2011