Trout Caught by Adrian with Mepps Aglia Ultra Lites in United States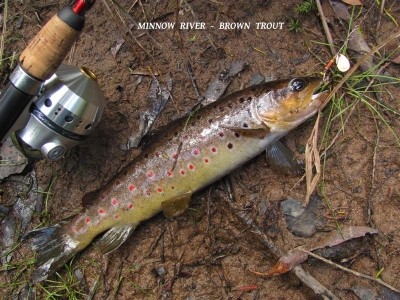 Download Image
Fish Information
Fish: Trout, Brown
Size: 320mms & 280gms.
Lure Information
Lure: Aglia Ultra Lites
Size: # 00 (1.5 Gms)
Color: Gold
Angler Information
Angler: Adrian Webb
From: Sheffield
Country: Australia
My Story
After some good rains over the past few days, I decided to go to one of my favorite little rivers near home,the Minnow River. When I arrived, the river had risen a couple of inches which was good as it had been getting a little low. Using a 5ft6in spinning rod & a closed faced reel and a #00 Gold Aglia spinner, I started wading the river. The water was a dark tannin color,but that didn't stop the Mepps Aglia from catching 6 nice plump little Brown Trout out of 9 hook-ups. All fish were released to hopefully be caught again one day.
Catch Information
Caught at: Minnow River, Beaulah, Tasmania.
State:
Country: United States
Caught On: Thursday November 17, 2011