Mepps November Special Offer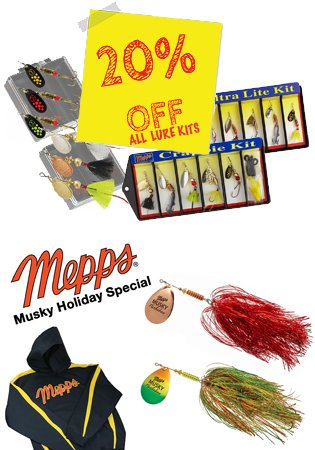 20% OFF all 3-Lure & 6-Lure Kits!
From now through the end of December, all 3-lure & 6-lure kits on Mepps.com will be marked down 20% for the holiday shopping season. No matter what species you target, we have a kit tailored for you or the person you're shopping for!
Musky Holiday Special
This $60 holiday special offers a Mepps Black Hoodie Sweatshirt in your choice of size (Medium - XXL), a Musky Flashabou (Copper Blade/Red Flashabou), and a Musky Flashabou (Firetiger Platium Blade/Firetiger Flashabou).
FREE Shipping on Orders $50+
Through the end of the year, all online orders $50 or more will qualify for FREE SHIPPING! This offer excludes Clearance Items.
* Free shipping offer excludes Clearance items and is valid through December 31, 2022