Description
Mepps bucktails and marabous were voted America's favorite musky bucktail by the readers of Musky Hunter magazine.
The Mepps Giant Killer is an extremely versatile big-game lure that is effective in both fresh and saltwater. The Giant Killer Mino is a top producer of musky and northern pike. They also will catch striped bass and other saltwater predators.
This classic Mepps has always been a great producer of large fish because it's so well suited for water depths of four to 12 feet. Big musky and trophy northern pike are found in these depths all summer long.
All Mepps Giant Killers feature a premium extra sharp, heavy-duty 5/0 hook, and produce a very definite vibration when retrieved.
The Giant Killer Mino features a 4" airbrushed Mino and weighs 1-1/2 ounces. The Giant Killer's heavy blade and solid brass body make long casts possible with little effort.
Video
Audio
The image you see behind the lure is a picture of the actual sound waves created by that particular lure.
To hear how your Mepps spinner sounds as it's being pulled through the water click on the lure's soundwave image.
Giant Killer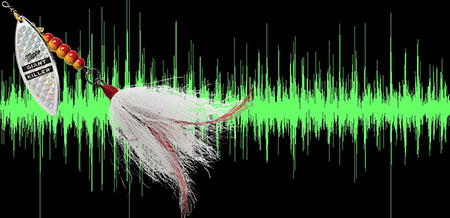 Like the Mepps Magnum Musky Killer, the Mepps Giant Killer produces a very definite "thump" as it's pulled through the water. However, because its willow leaf blade spins closer to the body of the spinner, the Giant Killer's sound is pitched slightly higher than the sound the French blade produced on the Magnum Musky Killer. The Giant Killer's "thumps" are also spaced closer together. This gives the illusion the Giant Killer is always being retrieved rapidly, when in reality its sound was recorded at a medium retrieve.
Testimonials
Sam – Oneida County, Wisconsin
Fish Caught: Pike, Northern
We caught 25 fish in two days. 23 on the Mepps two on live bait!
Awesome lure
Jon – Minneapolis, Minnesota
Fish Caught: Pike, Northern
Nothing in my tackle box has had more bites. That poor, rubber minnow has suffered such abuse at the teeth of many a pike. I won't go fishing without this.
Share Your Testimonial
Write a product testimonial and share your fishing experiences with other customers.
Fish Species
Giant Killer Mino

Muskellunge

Northern Pike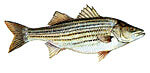 Striped Bass / Rockfish

Tiger Muskellunge
Links & More