by Andy Willis
Alaska's Deshka River Lodge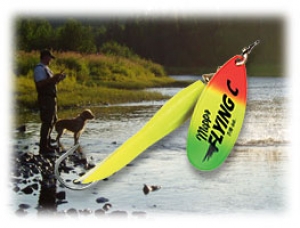 I was introduced to the Mepps Flying C two years ago. As a lodge owner and Alaska Fishing Guide I'm always on the lookout for a "good" lure. I decided to get the Flying C in a variety of colors and sizes and give it a try. It has proven to be an ideal lure for our local streams; upper and lower Deshka River, Willow Creek, little Willow and others.
The Flying C's weighted body makes it an excellent choice for Alaska's fast waters because it doesn't require any additional weight, whether the water level is high or low.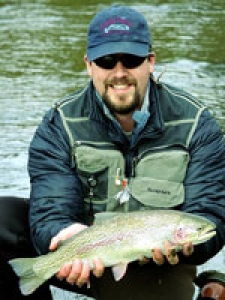 This is a real plus as weights can slide up or down the line, get snagged or sometimes even fall off. With the Flying C all you need to do is clip it on and you're ready to go and play some feisty fish. In fact, Flying C's sink so quickly, they make fishing difficult water easy, another real plus for this lure.
Alaskan's also prefer the Flying C because it's easy to use, fun to fish and can turn a novice into a successful expert. Its perfect for anglers both young and old. Thanks to the Mepps Flying C our clients are able to experience the memorable Alaska angling adventure everyone dreams of.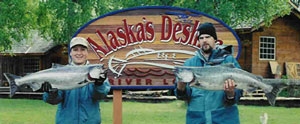 A great selection of colors and sizes makes it easy to select the right Flying C for all fishing conditions, whether you're fishing clear or murky water. This makes the Flying C perfect for a wide variety of fish including king (chinook) salmon, silver (coho) salmon, northern pike and steelhead (rainbow) trout.
Fishing for silver salmon and chum salmon we often have better success with the Flying C than with live bait; not to mention, it's a lot cleaner.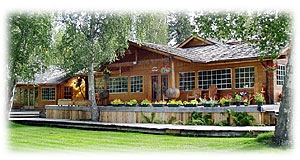 I have fished Flying C's for the past two years. They have easily out fished every other lure I have tried. We stock hundreds of lures in our Tackle Shop, but only one lure can be found in all of our tackle boxes... the Flying C. It's no wonder I consider the Mepps Flying C the new "must have" lure for great and successful fishing in Alaska!

- Deshka River Lodge