By: Gavin DeBoer
The Mepps Flying C is the perfect lure to catch various species of predatory fish. The Flying C comes in 2 different sizes: 5/8 oz. and 7/8 oz., a treble or single hook, and a variety of colors for blades and sleeves ranging from blades glo-chartreuse to silver-red with sleeves from hot chartreuse to red. The Flying C is also one of the deepest running Mepps spinners.
The Flying C is a lure for a variety of freshwater Wisconsin fish. I have caught fish ranging from perch to Chinook (King) Salmon on the Mepps Flying C.
Pike Fishing - Lake Michigan
I have had great luck pike fishing in Lake Michigan with the Mepps Flying C. For Northern Pike in clear water, I prefer a rainbow trout blade with a pink sleeve to mimic the fish pike are accustomed seeing. Mepps are extremely reliable while pike fishing, because they have a long shaft to prevent bite-offs. Casting the Flying C on the outskirts of weed beds is the best chance to hook into a pike.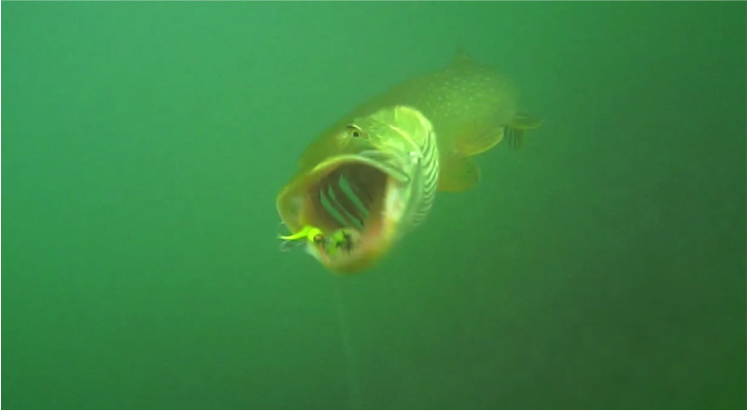 For the Great Lakes' Salmon & Trout
I use a silver or gold blade with a bolder color sleeve such as pink or orange. At night, however, I prefer any of the Flying C's that glow. The glow will help attract fish in the minimal visibility of night. When casting for salmon and trout in harbors, I suggest casting parallel to a structure of some sort; those fish will follow the structure. Often times, trout and salmon will hit at the last few feet so be aware of any follows .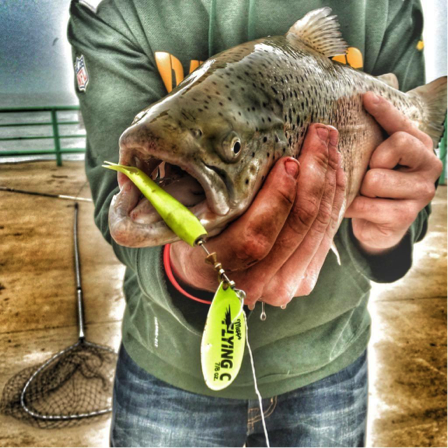 Shore Fishing with the Mepps Flying C
The Flying C is a shore fisherman's greatest tool. With its heavy weight, it will sink in the deep harbors and run at the level at where fish are more likely to congregate. It is also good for fast-moving rivers and streams. The lure will run lower than just a normal Mepps Aglia and still catch just as many, if not more, fish. The heavy weight also allows you to cast the lure farther in comparison to other Mepps lures other than the Mepps Longcast, which will reach about the same distance.
Flying C Fishing Tips
When using a Flying C, you might have to give the lure a yank to get that spinner started. Once it gets going, you can slow down your retrieve to where you can just feel it spinning. Jerking the lure can also help attract fish. I also occasionally pause my retrieve to let the lure sink back down, depending on the depth of the water. This can also attract fish, as we have seen it proven on camera.
The silver and gold blades will mimic the baitfish with the reflection of the sunlight attracting fish from near and far to investigate and possibly hit the lure. When casting the Flying C, I prefer using a 7 ft rod, a reel with a 5:2:1 gear ratio, and 20-25 pound braided line . Also, I like tying my Mepps Flying C's on with a Palomar Knot, so I do not lose the big fish that it hooks.
The Flying C is a lure that will produce fish in many different situations. From casting in the Great Lakes to your average local lakes, the Flying C will catch a variety of fish. Mepps has produced one of the best lures in existence for catching a variety of predatory fish while still remaining reliable.