By: Robby Mackesey
Kokanee Salmon
When you say Kokanee, you've sparked my attention. The drastic physical changes these fish experience when spawning is truly breathtaking. Since moving to Idaho (from Wisconsin), the annual Kokanee Run has been one of my favorite fishing trips each year. Not only for the fact that these fish migrate in such high volumes, but for the sheer beauty of their newfound identity.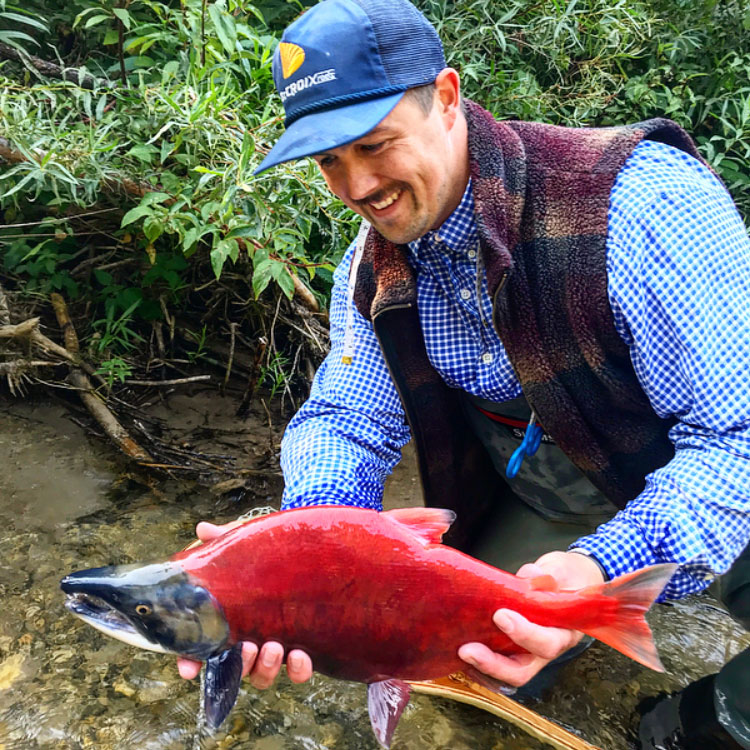 These salmon have spent much of their lives navigating through Lakes until their time has come to spawn. When Kokanee Salmon move their way up to small creeks/streams for spawning, they have gone through a variety of changes including a new bright red skin complexion, jaggedly sharp teeth, and the males even grow an over-developed jaw referred to as a kype as well as a large rounded hump on their back.
As these fish will pass away shortly after spawning, one thing I have enjoyed so much about fishing them is the fact that I can capture a quick image of their beauty for others to appreciate as well.
The Morning Of My Catch
Fishing rods, check. Gas, check. Coffee, check. This morning had started off like any other trip, hitting the road before sunrise to get to one of my favorite spots. The air was crisp, the leaves had begun the transition into fall colors and the Kokanee filled the creek.
At this point in their life cycle, Kokanee Salmon don't tend to have a very large appetite so I knew that I needed to throw a lure that would gather a territorial strike. With that being said, I had picked up a couple of my favorite flashy Mepps Lures the night before. I was using 8 lb test at the time, smooth casting monofilament. I had just recently went back home to Wisconsin and made a trip up to St Croix in Park Falls, WI where I picked up a Medium-Heavy Legend Glass Casting Rod from the discount bin. This was one of my first times taking it out and it worked perfectly for the close quarters creek.
The creek was relatively shallow (around 1-2 ft deep) but the fish would primarily stack up in the deeper pool sections of around 3-4 feet. I hit bottom on a few casts here and there, but was able to counter it by reeling quickly.
Record Setting Moment
At the time of my best catch, I was throwing a Hot Pink Mepps Flying C and was able to tempt this 21.5" male to attack.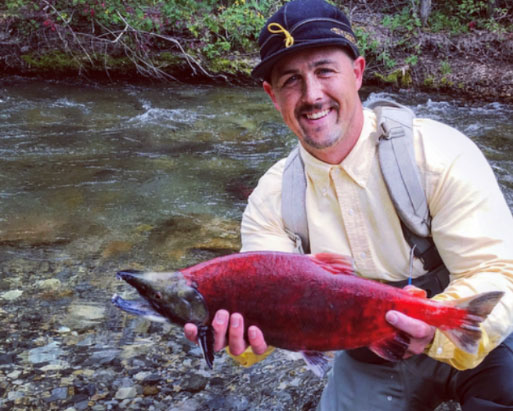 After securing adequate measurements of the catch, I knew that this fish was something special. Not only was he an alpha of this creek, but I knew that he had just measured to be the new Idaho State Catch & Release Record Kokanee Salmon. After a quick photo-op, I released this special catch back into the water to navigate his way upstream in his last few days of life.
Leaving the creek that day, I remember looking up and being incredibly thankful for the opportunity to not only catch a state record fish, but to also share the beauty of this incredible species known as the Kokanee Salmon.
Learn More:
Mepps Photo Gallery: Rob's Record Breaking Kokanee Salmon
Read Idaho State Journal: Two Pocatello friends break fishing records